Specializing in British and other European Auto Service, Repair, Restoration and Large Scale, Ride-On Trains: Outdoor Railroad Services
Vintage Restorations Limited is a full-service antique and classic car restoration shop that specializes in British cars. We are locally owned and operated by classic car enthusiasts and have been providing high quality repair and restoration services since 1992.
We can perform a complete inspection of a car that is being considered for purchase and will advise the customer of its overall condition, fair market value, and determine if a partial or full restoration is warranted. We work with the customer on every phase of the restoration project and explain all operations in detail, with projected costs provided in advance of the work whenever possible.
Complete or partial restorations
Body panel repair & fabrication
Welding & complete body refinishing
Wrinkle finish painting
Bead & sand blasting
Engine & transmission rebuilding
Electrical system testing & repairs
Routine maintenance & service
150-Point Car Evaluation
---
Testimony of a Satisfied Customer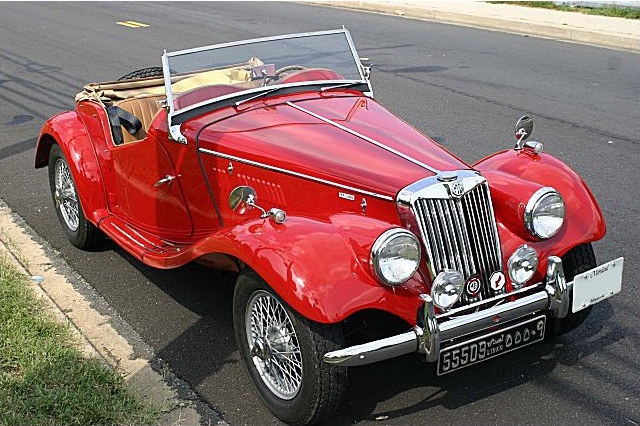 Starting in mid-2001, Tom Carolan began the search for a suitable restoration facility to work on his 1955 MGTF 1500. Tom's son, Philip, took the lead in this search. "We must have visited half a dozen candidates via the Internet or in person over many months without discovering one whose workshop and standards impressed us sufficiently."
"One day in early 2003, I received a phone call from Philip. Having seen Vintage Restorations web site on the Internet, he decided to pay them a visit at Mt. Airy, MD, where he met and talked with John Tokar and Lin Snider. The first thing he said to me on the phone afterwards was I have found the place."
"That's how our precious TF found its way to John and his lads at Mt. Airy. We brought the rolling chassis to them in April 2004 and the restoration process was completed in October 2007 in their new shop in Union Bridge, MD. We have never for a moment had occasion to regret our decision to rely on Vintage Restorations Ltd. In fact, if we were ever to acquire another vehicle that deserved superb restoration work, we would entrust it to them in a heartbeat."
---
16 Year Old Restorations Stands Up to the Test of Time
About a year ago, we had the occasion to perform some service work on a car owned by one of our early customers (No. 4!). We were pleased to learn that the 1959 TR3 (pictured here) we restored in 1996 has held up very well over the last 16 years. This is a testament to the careful workmanship of the staff of Vintage Restorations Ltd. and to the persistent and loving care by its owner, Susie.
This car is very sentimental to Susie because it was owned by her Grandfather. We were pleased to find the car in very good condition after all these years and are proud to display it on our website. Susie looks forward to many more years of enjoyable, trouble-free driving.
See our special photo gallery of Susie's 1959 Triumph TR3.