Vintage Restorations Ltd. has an experienced, professional staff that is willing to go the extra mile to ensure that the final product is both what the customer expects and desires. We are always happy to provide encouragement, free advice and technical assistance to anyone who is thinking of purchasing an antique car for refurbishment or restoration.
John M. Tokar
President
John has 50 years experience with British cars. He began collecting British cars while in college and developed a specialty in MG sports cars. After receiving a degree in Chemistry, he joined the Federal Government (NOAA) to pursue a career in oceanography/ocean engineering. He also holds a Master of Science in Engineering/Management. Vintage Restorations Limited was formed as a corporation in 1992. After retiring from NOAA in 1998, John expanded the company and began operating the business full time. He has personally restored and currently owns a number of British cars, including this MGA. His long standing affiliations with noted automotive organizations including the MG Car Club Washington D.C. Centre and the North American MGA Register (NAMGAR). He also serves as the Vice Chairman of the Chesapeake Chapter of the New England MGT Register (NEMGTR) and is currently serving in a consulting capacity for The Original British Car Day.
Dan Wolf
Restoration Technician
Dan has crewed for and raced British cars, formula cars, such as Continentals and Atlantics, along with German cars since he was 16. He has worked on primarily British, German, and Italian cars as well as getting his feet wet in the hot rod world. He specializes in repairing and hand making parts that are no longer available. Metal fabrication is Dan's specialty, but he also performs all tasks necessary to complete a restoration from beginning to end using modern and old school techniques of the trade.
Bill Hemelt
Restoration Technician
Bill has 40 years experience in automotive collector car field. He was factory trained in Fiat, Triumph, Lancia, Alfa Romeo, and Lotus. Bill has been working at foreign car shops since graduating high school in 1976. He spent some time in the late 70s at a Fiat, Alfa Romeo Triumph dealer. Much of his time was spent servicing all sorts of exotics including Lamborghini, Ferrari, and Lotus. He has worked at local independents for over 20 years performing all phases of restoration and repair.
Laurel Tokar
Office/Shop Coordinator & Restoration Assistant
Laurel has been around British cars since her childhood. She handles office administration, customer service, work scheduling/delegating, invoicing and web photos. She assists the technicians with restorations and performs light operations in the shop as needed. Laurel uses her classic cars as daily transportation, rain, snow or shine, disproving the myth that these cars can only be used for shows and weekend drives!
Lin Snider
Restoration Consultant
Lin has a Bachelor's and Master's degree in Business Administration. He has over 45 years experience collecting and working on British cars with expert knowledge in MG sports cars. He provides advice and council in support of the restoration process. Lin also assists with company administration, customer relations and service operations.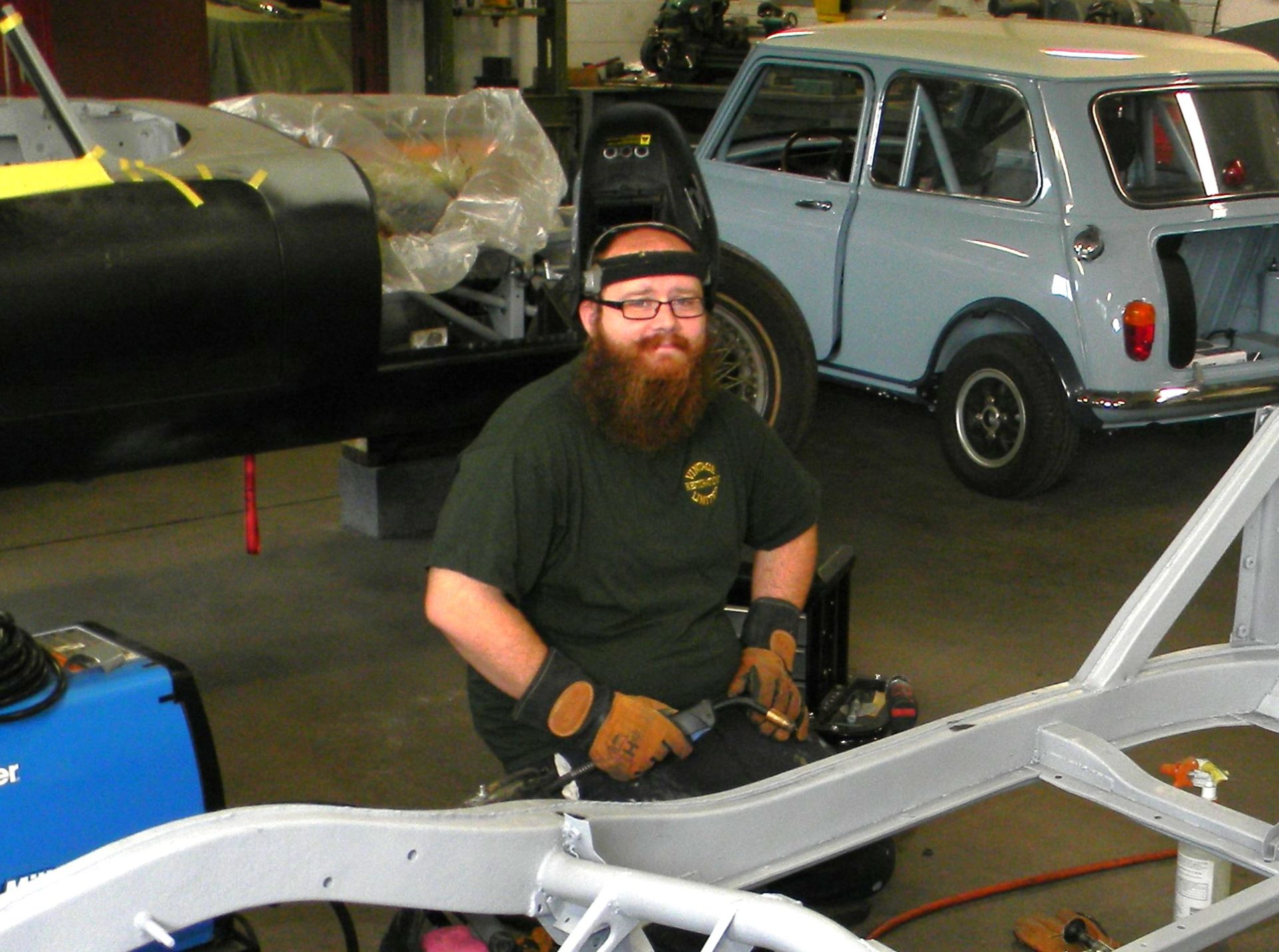 Ozzy Neugebauer
Restoration Technician
Ozzy Neugebauer attended WYO Tech University where he earned a degree in collision and refinishing at the top of his class in 2018. While attending this university, he received certificates in street rods, custom paint, trim, and upholstery. Ozzy has five years of experience in welding and fabrication, rust repair, metal shaping, finish sanding, painting, and detailing. At Vintage, Ozzy specializes in rust repair, metal fabrication, and small component refinishing.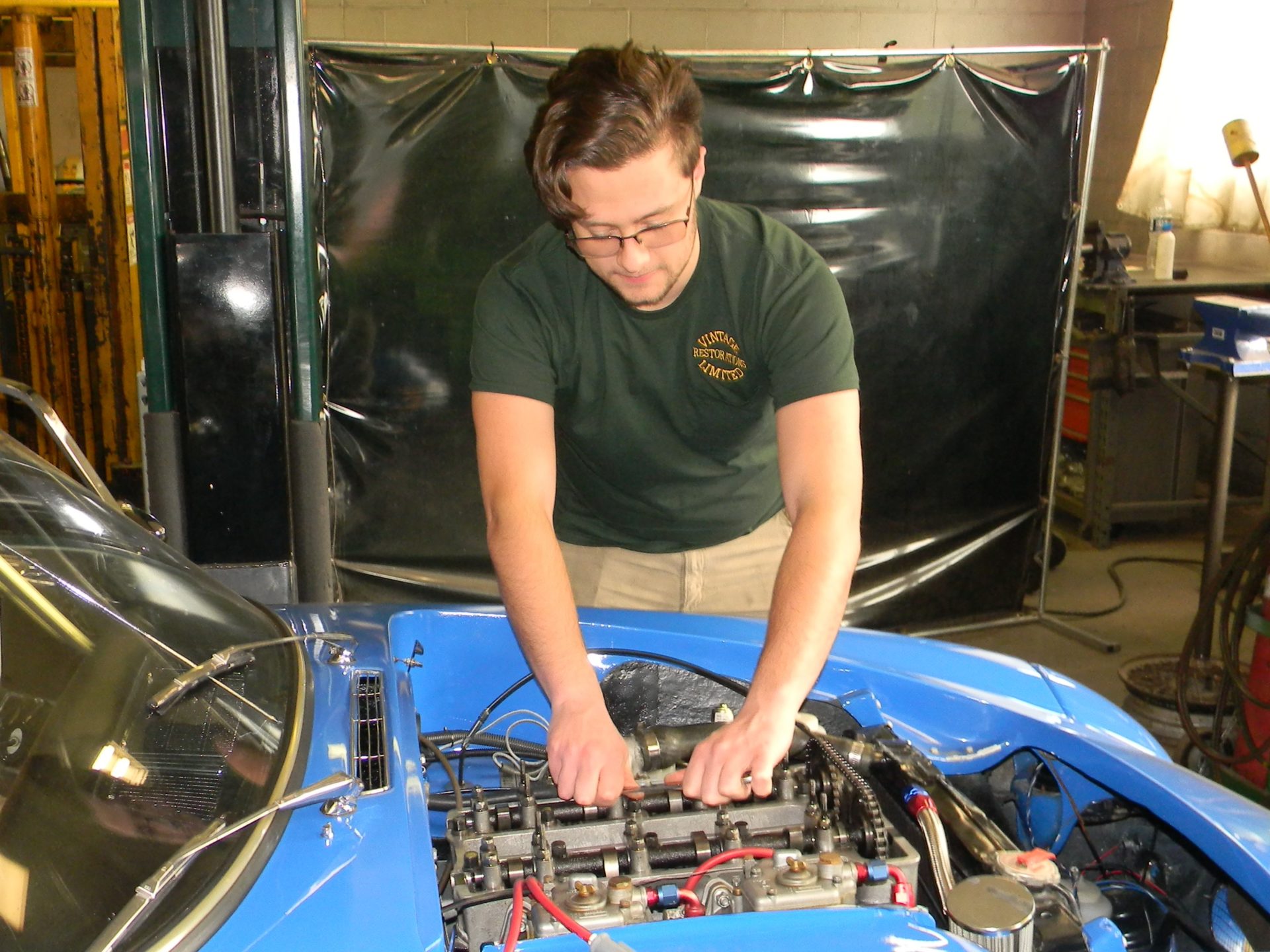 Cole Tanner
Restoration Technician
Cole attended McPherson College in McPherson Kansas where he earned a Bachelor's of Science in Automotive Restoration, with a focus in Engine rebuilding and Electrical Restoration. While attending the college he had the pleasure of servicing and restoring Lamborghinis, Bugatti's, and Porsches at various shops around the country. He is a member of many car clubs including but not limited to the AACA and PCA. You might see or meet him outside of the shop, attending car shows, or driving around the DC area in his 1929 Ford Model A. Cole specializes in problem solving and full car restorations.